Bring
interactivity

to your lessons
Support student learning and discovery by introducing a new level of interactivity to your lesson plan. ClassPad.net is a comprehensive online mathematics processing platform that empowers teachers to demonstrate math concepts, and enables students to show complex work on solution sets.
Key features

of the ClassPad.net Visual Workspace

Multiple representations on one screen with unlimited workspace

Interconnected mathematical representations

Easily adjust geometric objects, measurements, and angles

Ability to create authentic mathematical text

Easily incorporate text into the workspace in multiple ways

Separate and merge graphs and use of color for differentiation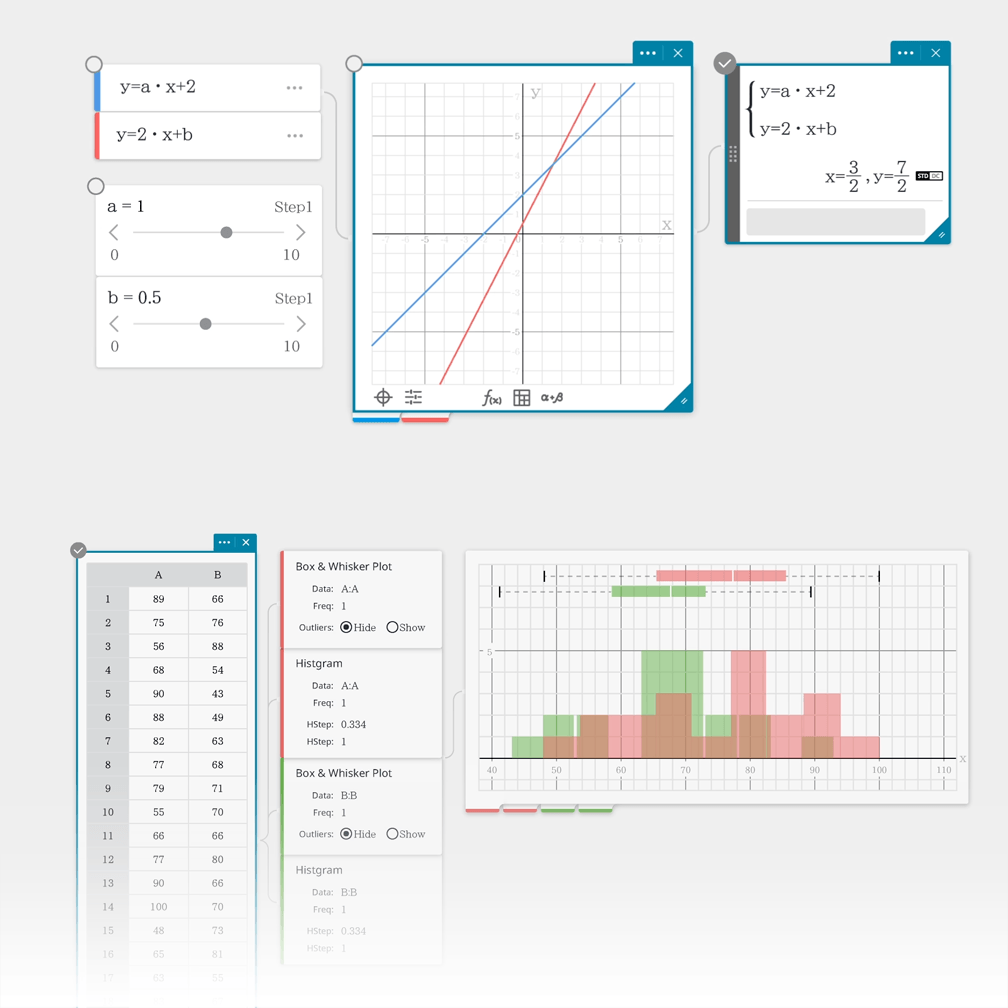 Experience

new

math technology
ClassPad.net Workspaces can be saved and shared. A saved workspace is called a "Paper." Papers offer limitless mathematical representations. Papers are composed through a combination of Sticky Notes. Sticky Notes can be used to display arithmetic, graphs, geometry, statistics, and much more.
Sticky Notes can be attached wherever you desire in the Workspace to create customized Papers, quizzes, and teaching materials!
100's

of Prepopulated Workspaces
Free, ready-to-use activities that educators can modify and share with students.
We provide hundreds of activities and cover a wide range of math subjects. Students can interact with and solve our Workspaces on their own, or educators can bring interactivity to the lesson plan.
Open Access
No registration necessary
Free
Registered Users
Like Open Access, but better
Still Free
Everything in Open Access and...
PLUS Access
Enhanced Premium Features
$24.95/yr
Computer Algebra System (CAS)
Advanced Statistics Calculation
Full Mobile App Functions
Our webinars cover math topics and how to best incorporate math technology into student learning and discovery. We also offer workshops demonstrating how to best use ClassPad.net.
We regularly post updates and tutorials to our YouTube Channel for your benefit. Watch tutorials on how to best navigate templates and how to build your own Workspaces.